Click to View Expert Bike Services
Prices are for labour only, unless otherwise noted.
Tune-ups
Spring Once-over: $39.99
Basic Tune-up: $89.99
The Works: $139.99

Tires & Wheels
Tire Service, including Tube: $24.99
Spoke Replacement, including Spoke: $29.99
Wheel True: $24.99
Hub Adjustment: $24.99
Hub Overhaul: $49.99
Drive Train
Chain Installation: $14.99
Bottom Bracket Replacement: $39.99
Cable / Housing Replacement: $24.99
Drive Train Adjust & Lube: $39.99
Front or Rear Derailleur Replacement: $39.99
Brakes
Brake Adjustment/Replacement: $19.99
Brake Hydraulic Bleed: $29.99
Miscellaneous
Headset Adjustment: $19.99
Headset Overhaul: $24.99
Rear Rack Installation: $24.99
Kick Stand Installation: $9.99
Bar Tape Installation – Tape Extra: $9.99
Miscellaneous Accessory Mount: $9.99
General Repairs $70/Hour
BERT'S GOT BIKES
and Bike Accessories & Bike Service
Bert's Sports & Custom Teamwear offers Hybrid Bikes, Road Bikes, Mountain Bikes and Fat Bikes in a variety of styles, colours, sizes & prices from respected manufactures Evo and, Canada's own, Devinci. Drop by and have a member of Team Bert's assist you in selecting the perfect bike and accessories for your cycling objectives, body type and budget. Plus, you can rest assured your new bike purchase will be backed by Bert's expert bike maintenance and repair services, including FREE SPRING TUNE-UPS for LIFE!! 
Now that's something to ride home about! 
FEATURED DEVINCI BIKES
Below is just a sample of the Devinci bike models in-stock at Bert's Sports & Custom Teamwear. Contact or drop by Team Bert's to check out product-specific inventory & pricing of in-stock and available adult and junior bikes by Devinci and EVO.
Devinci Class: City and Cycle Path | Fitness
Gym sesh to cardio regime to kale smoothie and everything in between—you define your roll. When it's time to shift gears and stroke the pedals, the all-new Devinci Hex is here to add a fresh perspective to your daily shred. This fitness focused machine features road bike-like efficiency thanks to sleek, speedy Double Butted Optimum G02 aluminum frame tech. The full carbon fork is light and responsive for fine-tuned handling.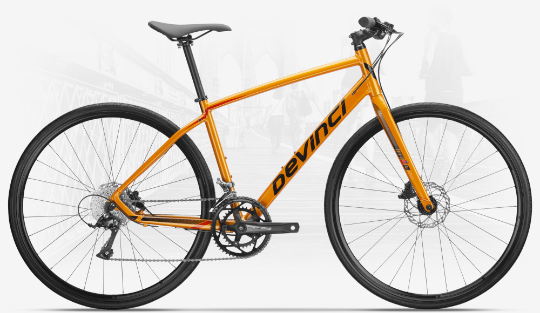 Devinci HEX CLARIS – Cycle Path | Orange, Black | SM (5'2″-5'7″ Rider)
CLICK HERE for full specs on Devinci website
Devinci Class: City and Cycle Path | Leisure
Trading a gas pedal past for a cleaner, powered-by-you future was the inspiration behind Devinci's Leisure Series lineup. That and—of course—making everyday outings even more fun. Optimum GO2 builds bring reliability and confidence-inspiring features to casual countryside excursions or mandatory mid-town romps. Rear rack, fender, and kickstand compatibility enhance versatility across all models. And final-touch details such as a premium finish bolstered by clean, internal cable routing bring it all home in a sleek, stylish package. Your perfect ride starts here..
Devinci MILANO – City | MF Red, Black | MF Black, Blue | WF Pink, White
CLICK HERE for Men's Frame or CLICK HERE for Women's Frame full specs on Devinci website
Devinci Manufacturing
Devinci Cycles, based out of Chicoutimi, Quebec, is a company that takes pride in their locally sourced aluminum, in-house fabrication and rigorous safety standards, all of which culminate in high-quality frames with a well-deserved "Made in Canada" sticker. Take a look at every step of the process, from design to powder coating, in this episode of "Made With Love", Presented by Freehub Magazine.